Here at last!  The beginnings of a genealogy blog that I have been meaning to start keeping for some time.  Interest in my family's genealogy began in high school when I got the standard US History homework assignment relating to family ancestors.  Filling in the family brackets was not that difficult because there were relatives on both sides of the family that I could ask.  However the names alone did not tell their stories and that is where my interest grew.  Who were these people that I call my ancestors? Stories are not scarce in my family and I will be sharing some of them here in the future as I try to flush out the truth from the embellished.
The relatives that I spoke to the most when I began digging through my family's history were my grandmothers.  They were always excited to talk about the family, who was who and always seemed to have birth and death dates on the tips of their tongues.  The talks I enjoyed the most were those that involved family photos.  The beginnings of putting faces to the names on my charts.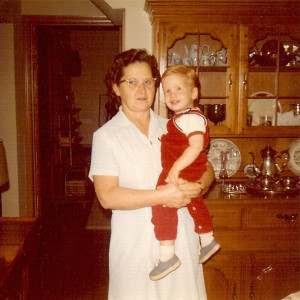 My father's mother, Mildred, passed away in 2000.  I had spoken with her many times about the family and she eagerly answered all my questions.  However I never realized how lucky I was to have her around to ask those questions of till she was gone.  Other family members have filled that gap but there was something special hearing the stories come from her.
This is a picture of Mildred and myself taken in 1974.  She lived in Frederick, Maryland and loved to travel.  She was always taking senior bus trips and I remember going on one of those bus trips to the Baltimore harbor with her.
My mother's mother, Artie Ann, and father, Joe, still live in Arlington, Virginia in the same house where my mother was raised.  They have been married for 64 years!  Grandma Ann is always interested in telling stories of the family and seeing what new records I have come across in my research.  Sometimes I think she gets more excited than I do when I find something new!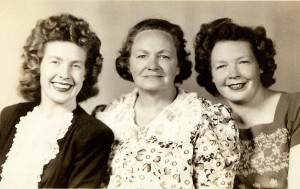 Here is a picture of Artie Ann, her mother in the middle, and my grandmother's sister, Gladys, on the right.  The photo was taken in 1945.  Their mother's name was Nancy Louverna Candes Cordelia!  We have not been able to figure out if  those names had any family significance.  The best we can do is assume that since she was the only girl of 13 children, that her mother gave Candes all of her choices of girl names! As for my Aunt Gladys, saying that she was a shutterbug would be an understatement.  I do not think I ever remember seeing her without a camera in hand.  And my grandmother is the photo hoarder for both her and my grandfather's side of the family.  From these two women I have been given a wealth of family photos and stories to go with them!
I want to dedicate this blog to my grandmothers, who will always represent the heart of our family.   They opened the door to our family's history to me and instilled the desire to learn all I can about my ancestors.  I hope you enjoy reading this blog and I welcome your comments!