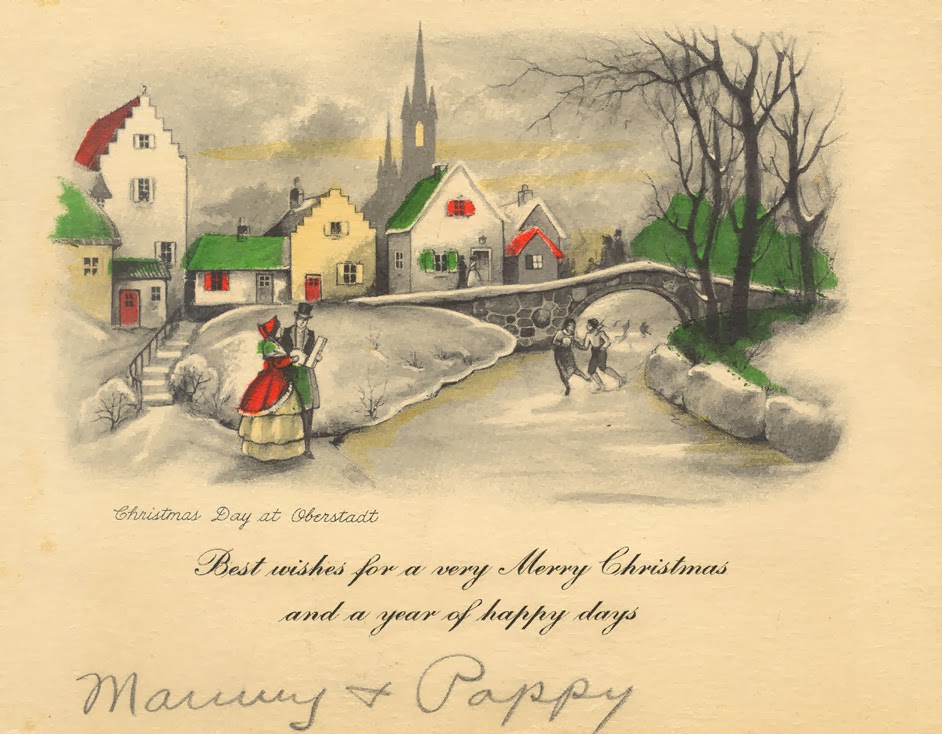 Card sent by my 2nd great grandparents William Harrison (1856-1937)
and Mary Ann Barb (1859-1940) Hosaflook, date unknown.
The second day of Christmas memories is dedicated to Christmas cards.
Today it seems like Christmas cards have been replaced by emails, animated images and musical cards with the heads of your relatives and friends on the bodies of dancing elves!  Gone are the days that I remember seeing the mailbox full of large square envelopes colored brilliant white or red during the month of December.
Growing up I remember my parents receiving no less than fifty cards, at least, during the holiday season.  In my parent's house there used to be two wooden doors separating the kitchen from the dining room.  The doors had angled wooden slats which would be filled from top to bottom with Christmas cards every year.  The overflow was placed in a wooden reindeer with a rectangular wooden basket as a body, which was located near the Christmas tree.
I tried to keep the tradition alive after I moved away from home but over the years it has dwindled down to nothing.  The intention was always there but before I knew it there would only be two days left till Christmas and I hadn't sent out one card!  So to make up for that I started sending out cards that said "Happy Holidays!" If I missed sending them out by Christmas I had an extra week to send them by New Years!  Even that eventually stopped.
Now it seems that Facebook is the vehicle of choice to wish everyone season's greetings by updating your status.  Facebook may be quick and efficient, but it loses the magic of receiving that letter in the mail and seeing the design/message that the sender decided to send to you.
Maybe this year will be the one where I restart that tradition … but don't be waiting out by the mailbox, just in case I miss it again!