Today is the first day of the Advent Calendar of Christmas Memories series and it is dedicated to Christmas trees.

I always loved helping to decorate the house for Christmas, but my favorite part was decorating the tree.  The tree seemed almost magical with the lights and ornaments.  The way the lights reflected off the glass bulbs and the tinsel was amazing.  I can't remember when my parents stopped buying tinsel for the tree.  It might have been a combination of my brothers and I having the tendency to toss handfuls of it at a time in the air to land on the tree (it seemed more natural that way) or our dog eating the tinsel off the tree!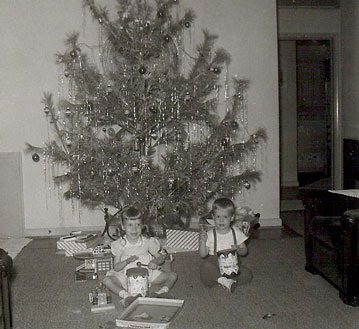 1956, my grandparents got a larger
tree after my mom and her brother came
along. They had lots of tinsel too!
With or without tinsel, I loved decorating the tree.  My mother has collected dozens of the light up, motion ornaments from Hallmark over the years.  Some of them can be quite heavy. One year, on Christmas Eve, after all of us had gone to bed and she had placed the last gifts under the tree, she decided she did not like how I arranged some of the motion ornaments.  So she rearranged them, mostly to the front of the tree so they could be easily seen.
The next morning when we were unwrapping gifts, my mother reached under the tree to pull out the next gift and happened to get the one that was supporting the weight of the tree as a result of her rearranging of the ornaments.  Out of the corner of my eye, I saw a streak of lights and heard my mother let out a shriek as the tree landed on top of her.  My brothers, my dad and I were doubled over laughing while my mother was stuck yelling at us from under the tree.  Needless to say every year since, a brick has been placed on the back leg of the tree stand.
The Advent Calendar of Christmas Memories (ACCM) allows you to share your family's holiday history twenty-four different ways during December! Learn more at http://adventcalendar.geneabloggers.com.