Here is another letter written to my paternal great-great grandmother, Lidia [Eliza] Cordelia Good (b. July 20, 1869, d. May 25, 1964)  from her cousin Frank in Louisville, Kentucky.  I do not know much about Frank at this point.  Lidia was the youngest of nine children born to Jacob Good (b. 4 October 1824 & d. 25 January 1905) and Eliza Ann Dickenson Sine (b. November 25, 1827, d. July 20, 1869).  Eliza died in childbirth.
Letter Notes: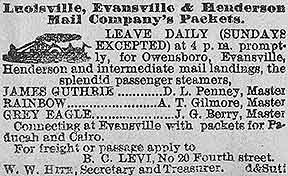 On page two, Frank talks about getting a job at "a large dry goods store … the largest store in the city."  The department store he probably got a job in was Stewart's Dry Goods, which had six floors and the Orchid Room Restaurant.
On page three of the letter the word "mash" is used a couple of times.  From what I have read, in the 1870's and 80's, this was a slang term meaning to flirt or develop a crush on someone.
Seems like cousin Frank had lots of "mashes!"
Enjoy!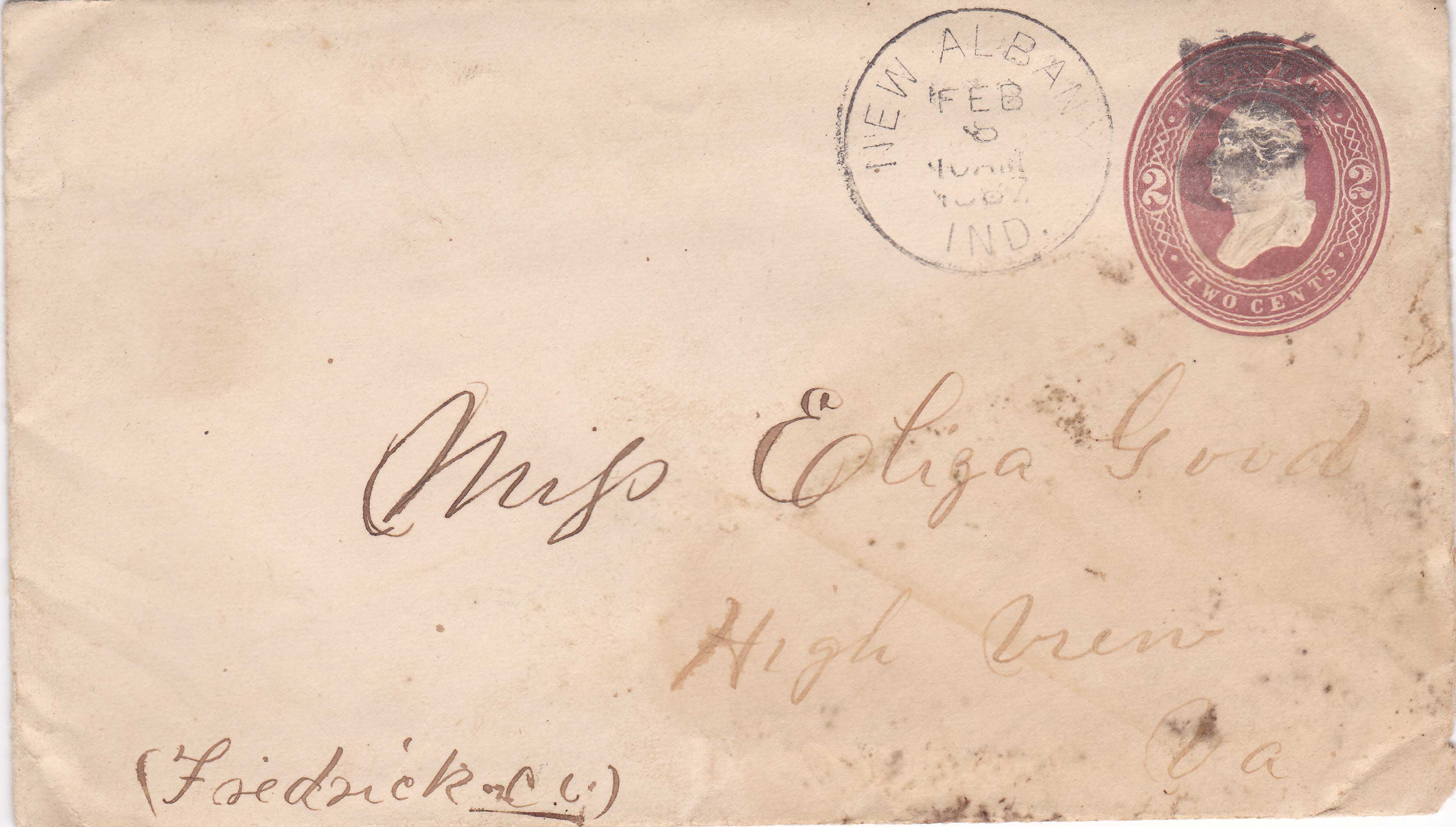 1887 Cover of Letter to Miss Eliza Good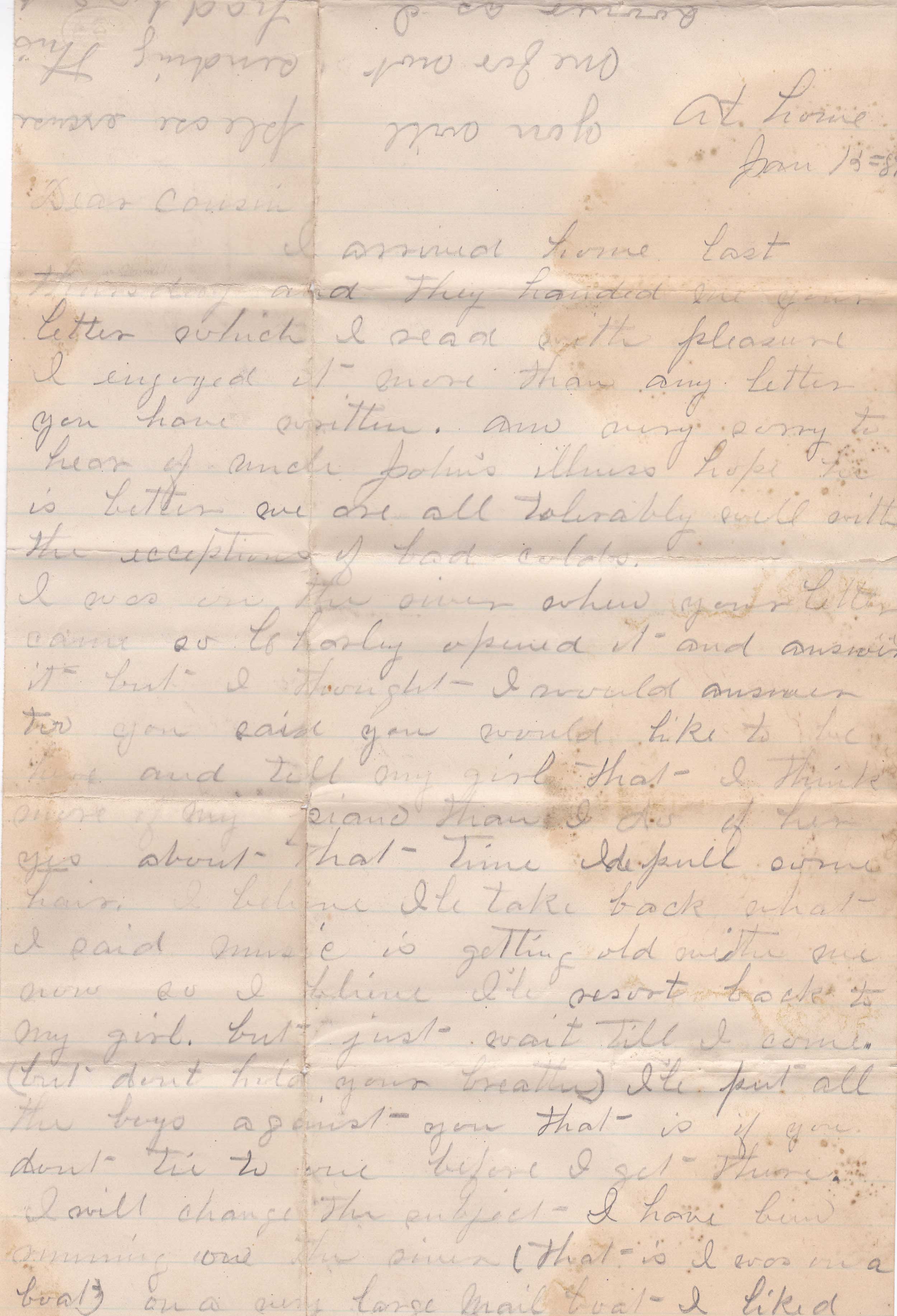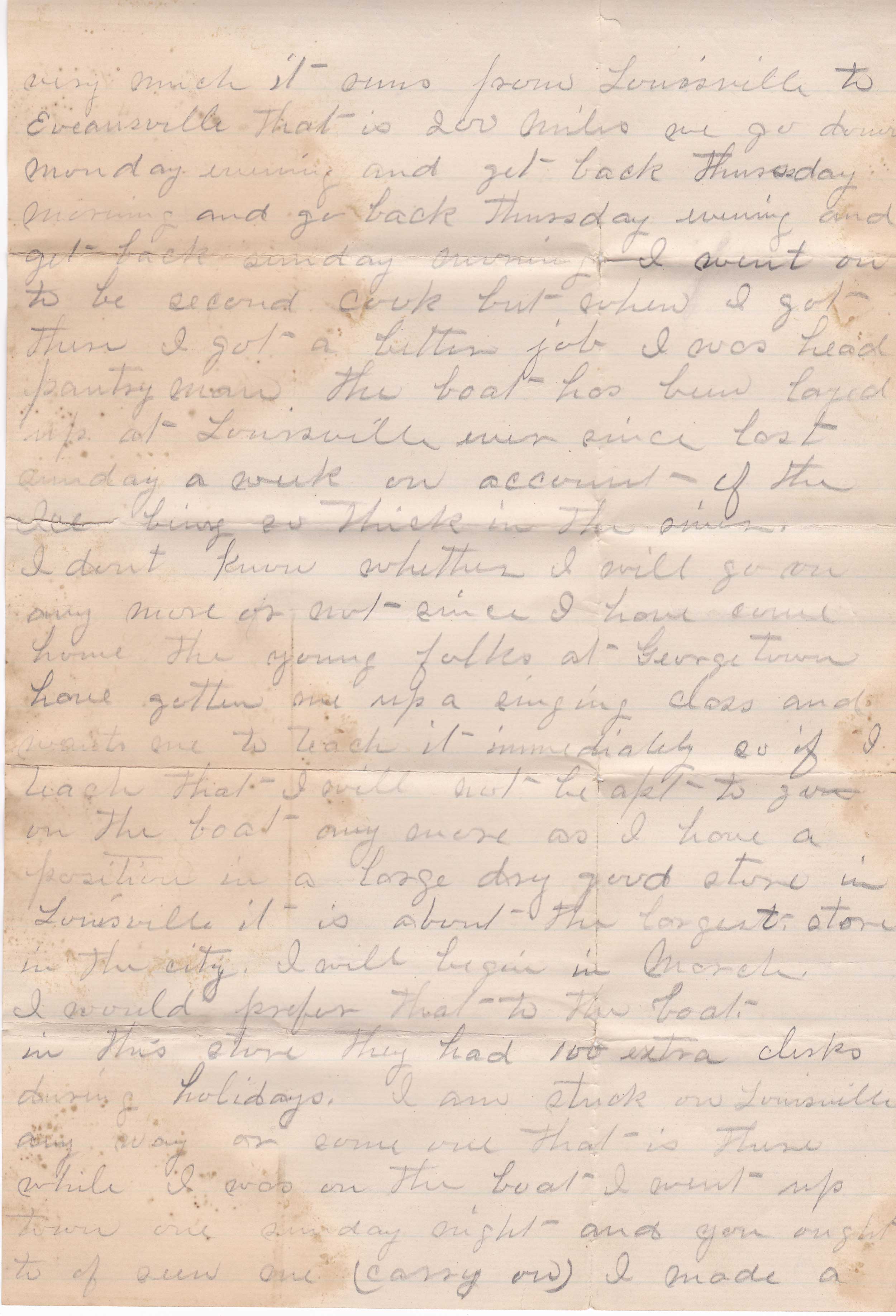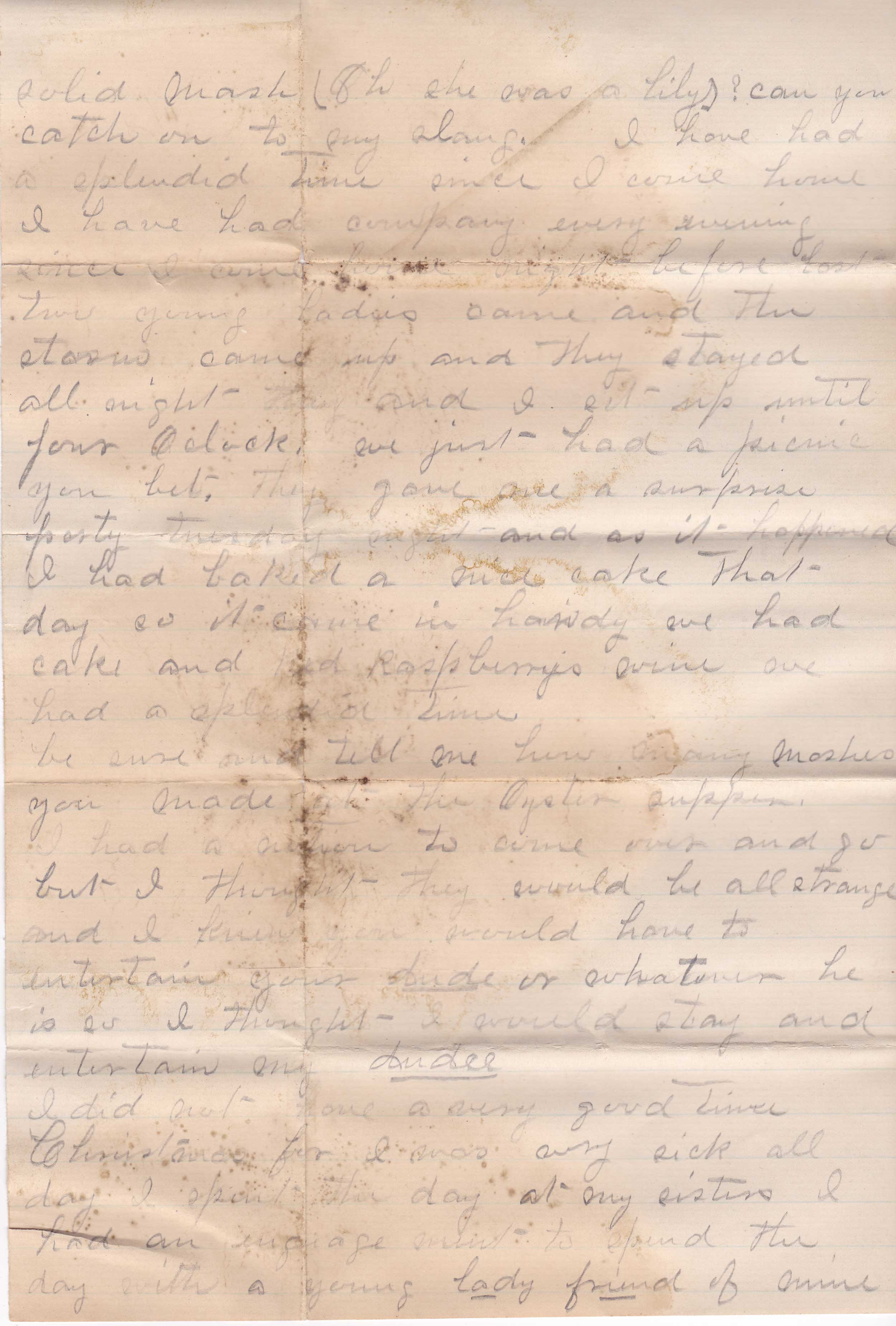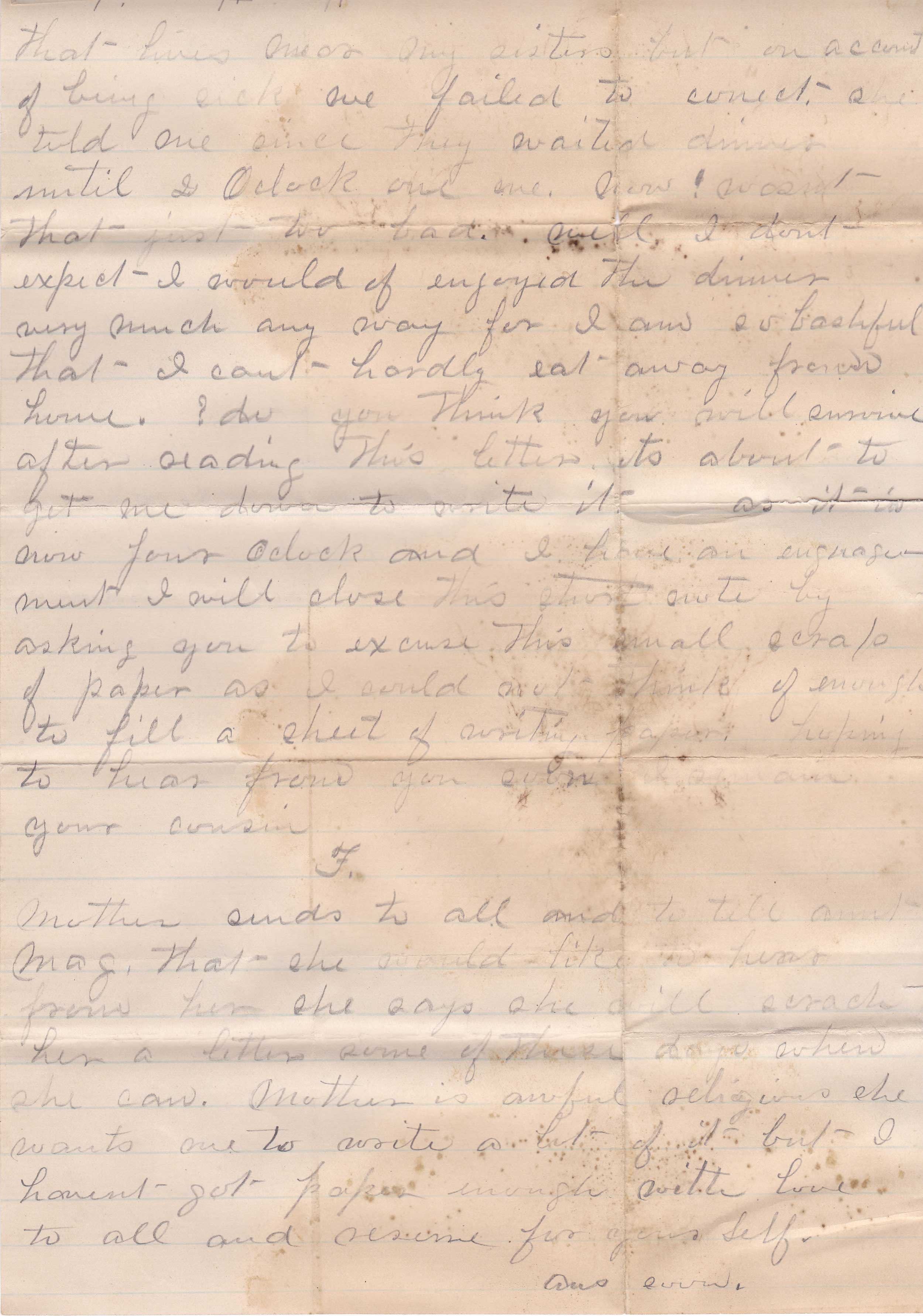 [Written upside down on top of page 4]
P1
At home.
Jan 13  87
Dear Cousin
I arrived home last Thursday and they handed me your letter which I read with pleasure. I enjoyed it more than any letter you have written. Am very sorry to hear of Uncle John's illness. Hope he is better. We are all tolerably well with the ecceptions of bad colds.
I was on the river when your letter came so _____ opened it and answer it. But I thought I would answer too you said you would like to be here and tell my girl that I think more of my piano than I do of her. Yes about that time Id pull some hair. I believe I'l take back what I said. Music is getting old with me now so I believe I'l resort back to my girl. But just wait till I come (but dont hold your breathe) I'l put all the boys against you that is if you dont tie to one before I get there.
I will change the subject. I have been running on the river (that is I was on a boat) on a very large mail boat I liked
[Written upside down at the top of the page] You will please excuse me for not sending this sooner as I had forgot it.
P2
very much. It runs from Louisville to Evansville. That is 200 miles. We go down Monday evening and get back Thursday morning and go back Thursday evening and get back Sunday morning. I went on to be second cook but when I got there I got a better job. I was head pantry man. The boat has been layed up at Louisville ever since last Sunday a week on account of the ice being so thick in the river. I dont know whether I will go on any more or not. Since I have come home the young folks at Georgetown have gotten me up a singing class and wants me to teach it immediately. So if I teach that I will not be apt to go on the boat anymore as I have a position in a large dry goods store in Louisville it is about the largest store in the city. I will begin in March. I would prefer that to the boat. In this store they had 100 extra clerks during the holidays. I am stuck on Louisville any way or some one that is there awhile while I was on the boat. I went up town one Sunday night and you ought to have seen me (carry on) I made a
P3
solid mash (Oh she was a lily) ? Can you catch on to my slang. I have had a splendid time since I come home. I have had company every evening since I come home. Night before last two young ladies came and the storm came up and they stayed all night. They and I sit up until four Oclock. We just had picnic you bet. They gave me a surprise party Tuesday night and as it happened I had baked a nice cake that day so it came in handy. We had cake and had Raspberrys wine. We had a splendid ol time.
Be sure and tell me how many mashes you made at the Oyster supper. I had a notion to come over and go but I thought they would be all strange and I knew you would have to entertain your dude or whatever he is so I thought I would stay and entertain my dudee.
I did not have a very good time Christmas for I was very sick all day. I spent the day at my sisters. I had an engagement to spend the day with a young lady friend of mine
P4
that lives near my sisters but on account of being sick we failed to connect. She told me since they waited dinner until 2 Oclock over me. Wow! Wasn't that just too bad. Well I don't expect I would of enjoyed the dinner very much any way for I am so bashful that I can't hardly eat away from home. ? Do you think you will survive after reading this letter. Its about to get me down to write it as it is now four Oclock and I have an engagement. I will close this short note by asking you to excuse this small scrap of paper as I could not think of enough to fill a sheet of writing paper. Hoping to hear from you soon. I remain your cousin F.
Mother sends to all and to tell Aunt Mag. that she would like to hear from her. She says she will scrach her a letter some of these days when she can. Mother is awful religious. She wants me to write a bit of it but I haven't got paper enough. With love to all and reserve for your Self. Answer soon.
Top of Page 4
I forgot to tell you that the girl that was sick last Christmas is well now. I have an engagement to go there tomorrow.